News Source: Nebenwerte Magazin | 04/30/2023, 07:30
"Anyone who earns money directly or indirectly with moving images currently cannot get past us as the leading technology group in Germany and Austria ," says Ralf P. Pfeffer, CEO of Avemio AG, in an exclusive interview with Nebenwerte-Magazin, adding:
"We want to have completed our transformation into a media technology group in three to five years and generate a not inconsiderable portion of our revenues in recurring revenue from digital services."
As part of its buy-and-build strategy, Avemio intends to make further acquisitions, with 15 companies currently on the company's target list.
Mr. Pfeffer, Avemio AG is listed on the Open Market of the Düsseldorf Stock Exchange. Could you please briefly introduce the company to our readers?
Ralf P. Pfeffer: The Avemio Group is by far the largest supplier of professional film and television technology in the German-speaking B2B retail sector. When we started 30 years ago, only TV stations, their suppliers and film producers were our customers. Today, we advise and supply everyone from YouTubers to Hollywood cinematographers who make money from video with the technology needed to produce, edit, archive and broadcast professional moving images. Our offer is currently aimed exclusively at commercial customers. Over the past ten years, our Group revenue has grown by an average of 23 percent per year to more than EUR 100 million – in the process, we have succeeded in uniting all major competitors in Germany and Austria under the umbrella of the wholly owned Avemio subsidiary Teltec AG since 2017.
What expertise do you personally bring to the table?
Ralf P. Pfeffer: Already during my studies of economics in Mainz, I had the opportunity to work as a management consultant. In addition to my commercial know-how and a profound understanding of market developments, I also have a strong entrepreneurial drive, which I was able to put into practice consistently when building up Teltec AG.
What exactly did this implementation look like?
Ralf P. Pfeffer: When Teltec started in 1993, my realization was that we were operating in a seller's market that was dominated by very few manufacturers worldwide at the time. With digitalization on the supply side and the burgeoning of more and more manufacturing companies on the demand side, it was to be expected that our industry would transform into a buyer's market. This led to the idea of developing and establishing a manufacturer-independent business model. There was nothing like this in the industry before. Our vendor independence is a unique selling proposition that to this day, even in the European context, hardly exists and is very difficult to copy.
You are referring to Teltec AG, which "slipped" into the shell of Palgon AG in the course of a reverse IPO, which now operates under the name Avemio AG. Why did you choose this approach?
Ralf P. Pfeffer: We have made it from a start-up to the leading dealer for professional film and TV technology in the German-speaking market under our own steam. This was done as part of a buy-and-build strategy. For us, going public is not about cashing in, i.e. selling shares, or about a quick exit. On the contrary, we are open to investors who understand our unique market positioning, its potential and our strategy and who want to be successful together with us.
We had examined other financing options prior to the IPO and ultimately opted for the stock market. A normal IPO consumes a lot of time and money. It ties up capacity in the company, only to find out after one or two years that the market is not open for IPOs. We wanted to do that differently. With the successful reverse IPO, we have written the first chapter in our stock market history, and we intend to add many more positive chapters to this.
You described the rise of Teltec AG to market leader in the German-speaking region. How has your customer base changed during this time?
Ralf P. Pfeffer: In the 1990s, film and television technology was an analog high-tech industry. This high technological standard continues to this day. Digitalization has made many things easier. However, the complexity has migrated from the equipment to the production systems and workflows. Initially, our customers were exclusively large broadcasters – such as ZDF, HR, Sat.1 – as well as their service providers, content suppliers and production companies of cinema, TV and documentary films. The market has broadened over the years, partly because the technology has become more affordable.
And today?
Ralf P. Pfeffer: Today, as part of a multi-brand strategy, we supply everyone who earns their money with moving images. More than 35,000 customers come from the areas of broadcasting (public and private broadcasters), their content suppliers as well as service providers for large streaming services such as Netflix, Apple TV, Amazon and Disney Plus via social media, influencers, Youtuber, Twitch, e-learning to the companies that produce their own content in the meantime (e. g. B. Schenker, Greenpeace, Lufthansa, Turtle Entertainment Gaming and many others). In short, anyone who earns money directly or indirectly with moving images currently cannot get past us as the leading technology group in Germany and Austria.
You mentioned the buy-and-build strategy. Which companies have you acquired so far?
Ralf P. Pfeffer: In 2017, we acquired Videocation in Munich, one of our largest competitors, and subsequently opened our first foreign branches in Vienna and Salzburg. In 2018, we acquired the Video Data group in Hamburg and in 2021 the last remaining major competitor in Germany, BPM in Hamburg. With PVP in Warsaw, we also brought the first foreign-language foreign company into our Group a few weeks ago.
What is the strategy behind this?
Ralf P. Pfeffer: In all acquisitions, previously existing management resources were taken over. Additional know-how is gained with the personnel. Above all, it granted us access to the respective regional or national market. We are now applying the experience we have gained to our international growth strategy.
At the end of March, you reported the increase in the stake in PVP in Poland. What is the importance of the Polish market for you? And which other European markets are you focusing on?
Ralf P. Pfeffer: Poland is the most important market in Eastern Europe. We were specifically looking for a partner here who would not only work the Polish market for us, but would also be the key to further expansion in the East. We want to make PVP the market leader in Warsaw. In principle, we want to be represented in every EU country in the medium term. The targets have to fit us, we have no preferences in this respect. We naturally weigh up in our decisions how much management resources each acquisition will tie up.
What could be the next steps in the buy-and-build strategy and how do you plan to finance them?
Ralf P. Pfeffer: Our target shortlist for this year includes three companies. Our maxim for every acquisition is that the takeover must have a positive impact on our enterprise value. We are able to finance these three acquisitions from our own resources, so we are not dependent on the capital market. In the medium term, however, access to the capital market will also open up additional financing opportunities for us that we have not had in this form before.
And what targets have you set for inorganic growth?
Ralf P. Pfeffer: Our target list includes a total of 15 companies, and some of the target companies are even larger than we are. As the largest retailer in the EU, we see ourselves in pole position in the race for European market leadership. The American market is way ahead of us in this respect. B&H in New York is the world's largest distributor in the industry. The company generates annual sales of over four billion euros in North America, a market of similar size to the European Union. They set the benchmark for a European market leader.
The trading business tends to be low-margin. What is your situation? And how do you plan to increase profitability?
Ralf P. Pfeffer: As a trading company, we have to cope with manageable gross margins. But success lies in growth, the generation of economies of scale and the relevance in the market associated with size. This will increase profitability. We aim to increase the gross margin by 3 percentage points over the next few years. Every percentage point improvement in margin increases profitability by one million euros on sales of one hundred million euros. Important earnings levers are the increased use of private labels and also digital services. And another important profitability trigger lies in generating overhead cost degression with growth. Relative costs in relation to sales can be significantly optimized by centralizing business processes.
What is the current financial situation of the company and how do you plan to finance the next growth steps?
Ralf P. Pfeffer: We are currently in a very stable financial position with equity of around 40 percent and liquidity in the double-digit million range and a strong cash flow from operating activities. For the next steps in the implementation of our buy-and-build strategy and the associated expansion into other European countries, we do not require any capital rounds through the issue of new shares.
Finally, let's talk about your medium-term goals. Where do you see Avemio AG in five years?
Ralf P. Pfeffer: We want to have completed our transformation into a media technology group in three to five years and generate a not inconsiderable portion of our revenues in the context of recurring revenues from digital services. If everything develops halfway as we envision, Avemio will be by far the leading European trading group for professional film and TV technology in 2028. Avemio will then still have lost none of its growth momentum and will continue to aim for sales of over one billion euros in subsequent years.
Mr. Pfeffer, thank you very much for the interview!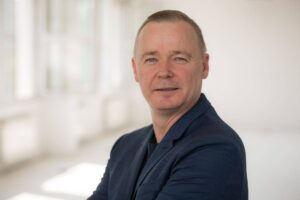 Ralf P. Pfeffer | CEO of Avemio AG
Year of birth: 1967
Nationality: German
Initial order: November 18, 2022
Ordered until: November 18, 2027
Ralf P. Pfeffer is Chairman of the Management Board (CEO). He studied economics and business administration. Parallel to his main studies, he was already working as a management consultant and acquired his first company at the age of 25. He has a strategic, entrepreneurial mindset. His expertise lies in the areas of corporate (re)organization and financing. He is the visionary of the group and spiritus rector of the Teltec business model.
About Avemio AG

Avemio AG, with its wholly owned subsidiary Teltec AG, is the top-selling trading group for professional film and television technology in the German-speaking market. The share capital of Avemio AG is divided into 3,432,150 bearer shares, which are listed on the open market of the Düsseldorf Stock Exchange. The object of the group of companies is the trade in professional film and television equipment, associated consumables and accessories. This also includes consulting and technical support for complete production, post-production and broadcast systems. Teltec AG holds 100% of the shares in each of the following companies VCT Videocation Creative Tools GmbH, VDH Video Data Handels GmbH, VDT Video Data Technik GmbH, BPM Broadcast & Professional Media GmbH, and generates sales of over EUR 100 million in the Group.